Andrew Koebbe
Web Developement and Hosting Services...
Your One-stop Shop for Website Development
From Development To Hosting
Giving you or your business exactly the tools it needs and no filler.
Grav CMS
Grav is a fast secure flat file content management system for small to medium sites
Drupal
Drupal is a powerful content management system built for medium to large sites
Symfony and Laravel
Symfony and Laravel are popular application frameworks for developing custom sites and web apps
Webhosting
Keeping your site running and secure with daily backups by default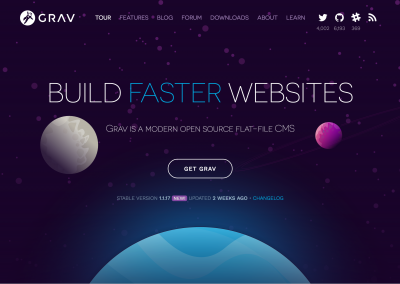 Grav: My Preferred CMS
No longer are you a slave to your CMS. Grav empowers you to create anything from a simple one-page site, to a beautiful blog, to a powerful and feature-rich product site, to pretty much anything you can dream up!
I've built personal sites, blogs, product/services sites, event promotions, and a podcasting platform all wil Grav. It's a joy to develop on and I'm proud to be a core contributor to this open source CMS.
The Technical Goodies
Here are the tools I use